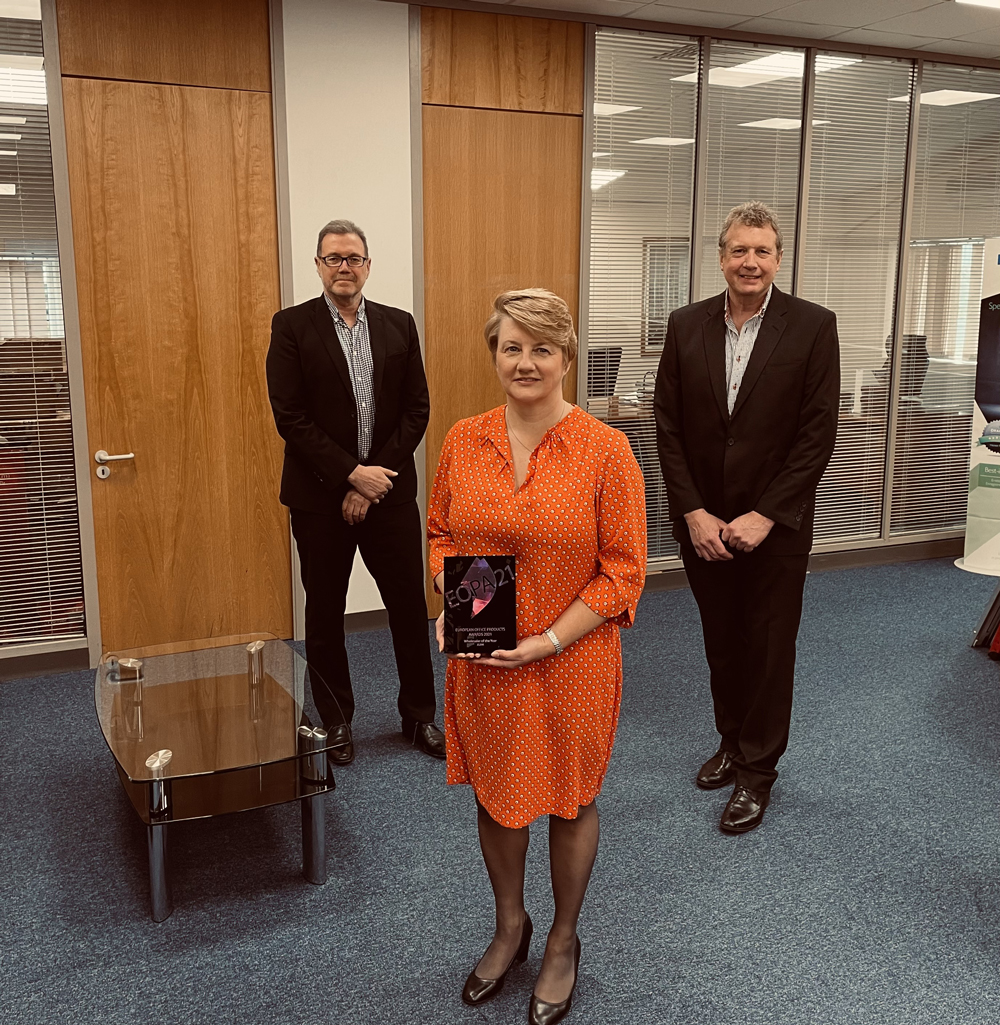 We're so delighted to announce that we have been awarded European Wholesaler Of The Year 2021 at the EOPA awards!
This award recognises companies that have successfully adapted to the challenges of the current pandemic. Judges focused on organisations that have diversified, innovated and evolved their business model to succeed in a competitive and rapidly changing market.
It's a great testament to the hard work of the dedicated team we have here at JGBM. A big thank you to our customers and suppliers too!
Here's a video of the presentation and below is the press release published by OPI.
JGBM wins prestigious European Office Products Award
JGBM was one of the winners of the 20th European Office Products Awards (EOPA) which were presented in a variety of Zoom presentations in early March 2021.
Unlike in the past few years, when the annual EOPA were celebrated as part of OPI's Partnership event at the Hotel Okura in Amsterdam, this couldn't happen this year due to the ongoing COVID-19 situation. It certainly wasn't what event organiser OPI had planned for, especially given that 2021 marks the 20th anniversary of the EOPA.
That said, the changed format didn't take anything away from the award winners – to be shortlisted alone in this pandemic-dominated year was an achievement and testament to resilience, ingenuity and a lot of hard work. To win is exceptional.
UK-based JGBM won the Wholesaler of the Year award. JGBM is a very familiar player on the EOPA circuit, having won the same award back in 2016 and being shortlist every year since (and also in 2015).
2020 was the year when this comparatively small and somewhat niche operator – its core remit is office machines – came into its own again. Highly entrepreneurial in its approach, hugely adaptable to surges in demand and reassuringly knowledgeable in times of heightened customer needs and demands – that sums up JGBM in a nutshell.
The work-from-home reality of the past year – a curse for some, a blessing for others – played well into JGBM's product portfolio and in-depth knowledge while its long-honed online expertise helped its dealer partners to successfully compete in a spiralling e-commerce world.
Commenting on this year's EOPA, OPI CEO Steve Hilleard, who is also the Chairman of the EOPA judging panel, said: "2020 has been an incredibly difficult year for so many. As such, the team at OPI was even more humbled by the enthusiasm shown yet again for the EOPA. I would like to sincerely thank the many companies for entering or nominating candidates, the judges for taking the time out of their no doubt busy schedules to evaluate those candidates and the winners for being part of our first-ever virtual awards ceremony.
"The EOPA are always a great reflection of an industry that refuses to be defeated by challenges – 2020 perhaps proved that more than any other year. I cannot wait to raise, when we're allowed again, a glass in person to every single EOPA winner – to our whole resilient and fantastic industry in fact."
For more information about the EOPA and the judging process, see opi.net/EOPA2021.

Category: JGBM News & Press Releases