Recently, OPI – the office supplies industry's go-to hub for essential resources and news – released a piece delving into JGBM. The article covers everything from how we've tackled COVID-19 to how we can guarantee to make dealers more competitive in the office machines sector as well as capitalising on the new WFHome market opportunities.
Find the article below written By Andy Braithwaite.
—
UK-based office machines wholesaler JGBM prides itself on its business approach that benefits both resellers and vendors.
While much has been written about the challenges facing the business supplies industry due to COVID-19, in September 2020, JGBM reported the most successful month – in terms of both sales and profitability – in its 43-year history. It was an achievement driven by high demand for work-from-home (WFH) products.
This is a segment that the office machines distributor happens to be particularly strong in, with items such as webcams, headsets, consumer printers, shredders and other home office equipment selling like hot cakes.
One of the reasons for JGBM's strong 2020 was its early sourcing and pre-ordering of products which enabled it to have instant answers to WFH needs. In addition to actually being able to supply products, Managing Director John George also points to the success of a daily WFH e-shot which helped dealers pre-sell items.
"An important factor was that we gave due dates, not just in-stock dates," he says. "It makes a big difference to let dealers know this, so the pre-orders were very strong."
George believes the WFH category will be "huge" going forward. "Companies are going to have to get involved with health and safety at home and kit out their staff," he notes. "At the moment, we're still in a transitional period, but the landscape has changed and a hybrid workforce – able to work from home and the office – will be the norm."
Product knowledge
Office machines typically account for between 5-8% of an independent dealer's sales and JGBM has built a strong reputation in this niche category through one of its key USPs: its product knowledge. The sales team – trained by the manufacturers themselves – answers hundreds of calls a day from resellers. "Given the fast-paced nature of this niche segment, it's absolutely essential for dealers to engage with a category expert," explains George.
"Our team will have the answers and can recommend a particular product, explain what's on promotion that day, or advise dealers on what follow-up questions to ask the customer. This is a real differentiator for us."

Digital solutions specialist
To compete in the evolving workplace environment, independent resellers have to have robust online capabilities, another area where JGBM excels. Indeed, it views itself very much as a digital media and e-commerce company, partly as a result of its links with sister organisation 20/20 Digital Media – run by John's brother, Mike George – which has its own development team.
Each year, the distributor hosts an in-house think tank to identify and analyse market issues, and to develop solutions that resolve these. In 2019, following a survey which involved more than 200 dealers, it became clear that selling traditional OP was vastly different from operating in the fast-paced office machines market.
In brief, the brainstorming concluded that dealer selling prices were much too high which, in part, contributed to them believing they couldn't compete with online prices. "They can," asserts [John] George. "It just needs to be understood that pricing can sit above the online price, but not ridiculously so. We can resolve that for dealers."
In response, JGBM has developed several initiatives. One of these is its ISP 'Intelligent Street Price' programme. This combines the distributor's category knowledge with the price that products should be selling for. George points to a sweet spot in dealer pricing which, taking into account local relationships and service levels, sits slightly higher than online pricing.
Another area JGBM has been working on is to help dealers be more efficient in taking advantage of product promotions. "The industry is often led by monthly promotions, yet these are rarely seen by dealers' customers," states George. "The mechanism to deliver them wasn't there, reaction times were far too slow, and content was poor."
The result is TechStuff, a monthly cloud e-catalogue that dealers can host on their own websites. The digital publication is written in HTML5, so it works on all modern desktop and mobile devices. It includes JGBM-created content, embedded videos, new product releases and the latest OEM offers, usually uploaded within 24 hours of release. "That speed to market is one of our key USPs," comments George.
Last year, JGBM also introduced the 20/20 Lite Office Tech web shop. Featuring solely the JGBM portfolio, a core selling point of the platform is that its content is fully managed in the cloud by JGBM category experts, and as such requires zero dealer involvement, other than publicising it.
Dealers can link to it from their main website or use it standalone. 20/20 Lite has the backing of all of the UK's leading dealer groups and integrates with Prima, Xero and more.
Working together
These solutions form part of the company's ambition to be "the brains of the dealer", and also highlight its recently developed consumer-driven brand marketing approach.
"This is a significant new strategy," asserts George. "Unlike the usual 'trade' marketing, it communicates directly to the end user via the dealer, essentially using the dealer as a conduit. Therefore, our product and marketing expertise can be maximised through the dealer channel.
"We now have over 600 dealers on this platform. It's a win not only for the reseller, but also for the brand owners because they traditionally have little control at consumer level via the OP channel."
Plenty remains to be done, according to George. His priorities for this year include building further on delivering unique consumer-orientated content for brands, alongside the opportunities in the WFH market as well as debunking the notion that selling office machines is the same as selling stationery.
JGBM in a nutshell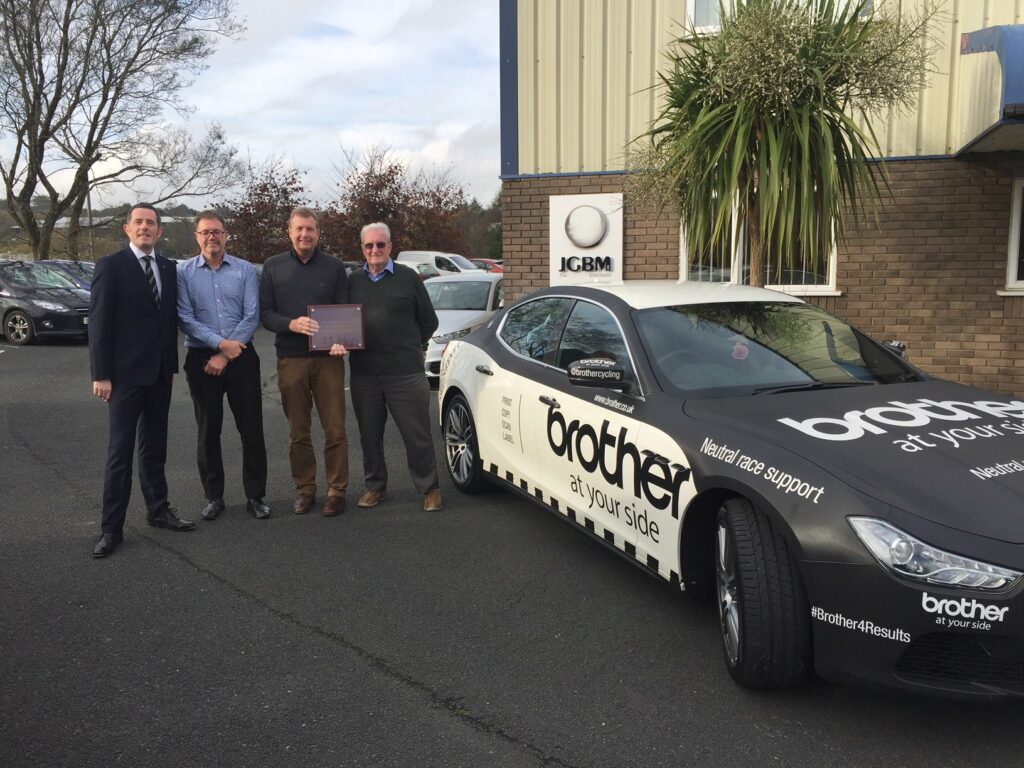 JGBM was founded by John George Senior in 1977, in Plymouth, in the south-west of the UK, as the sole UK distributor for the now defunct Silver Reed typewriter brand. Sons John Jnr and Mike joined the company in 1981 and 1982 respectively. The business added facsimile brands to the portfolio as it began a diversity strategy that has continued to this very day – it now distributes approximately 40 brands throughout the UK.
In the 1980s, JGBM leveraged the emergence of the buying groups to build a national OP dealer base. This still represents a significant portion of customers today with hundreds of active monthly accounts. The overall strategy was – and still is – to innovate and be the business products industry's 'go-to' specialist in the office machines category. As such, JGBM stocks more than 4,000 SKUs, typically double that of the offering of a traditional OP wholesaler in this particular niche segment.
With the advent of cloud computing, JGBM has added digital marketing – for brands as well as dealers – e-commerce services and unique content-building to its armoury. It also works closely with sister firm 20/20 Digital Media to help dealers compete more effectively online.
JGBM's efforts have been recognised in recent years by its peers. In 2016, it was named Wholesaler of the Year at the OPI European Office Products Awards; it has been shortlisted for the same award every year since 2015.
Key hire for 2021
JGBM recently appointed Simon Bennett as its new Head of Sales and Marketing. Bennett is a familiar face in the UK office supplies channel, having spent 13 years at envelope manufacturer Bong as Sales and Marketing Director and, prior to that, 14 years at paper distributor Antalis.
Category: JGBM News & Press Releases