The Office Machines market is fast-paced! Compared to selling Stationery, a completely different methodology is required. In fact, it's virtually impossible to be competitive without partnering with an expert tech distributor – JGBM – to deliver competitive street pricing, manufacturer promotions as they're launched, unique content & more.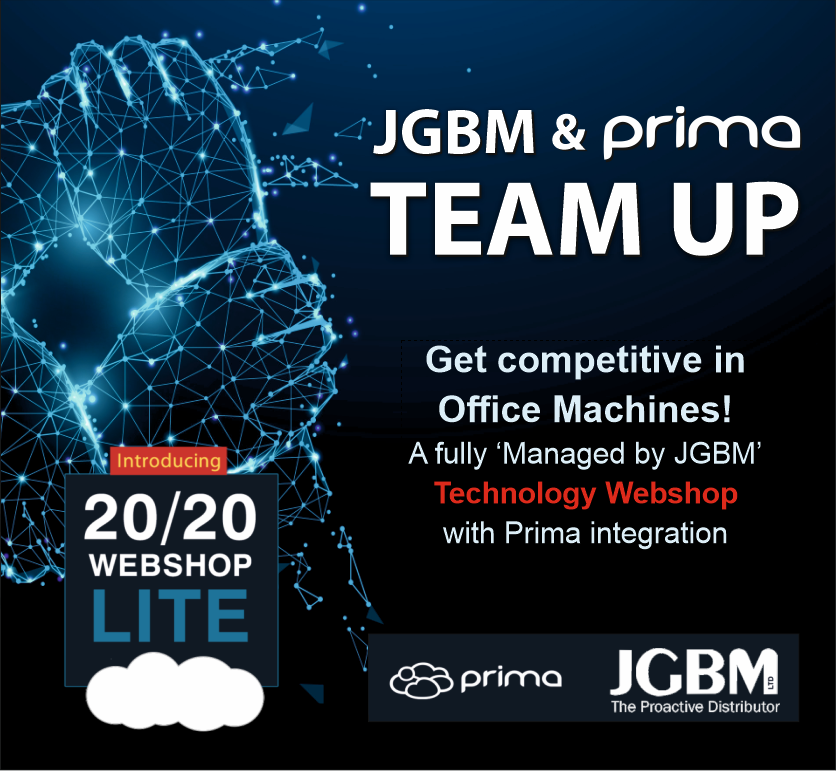 JGBM & Prima Team Up
We've worked closely with Prima to deliver 20/20 Lite Office Machines & Technology Webshop. Its key USP is that content is 'managed by JGBM' for you, and that it requires virtually none of your time. Its power comes from fresh content every day/week, and a competitive street price feed – incorporating the recently developed JGBM ISP 'Intelligent Street Pricing', product video, manufacturer promotions with countdown timers, unique product selectors etc.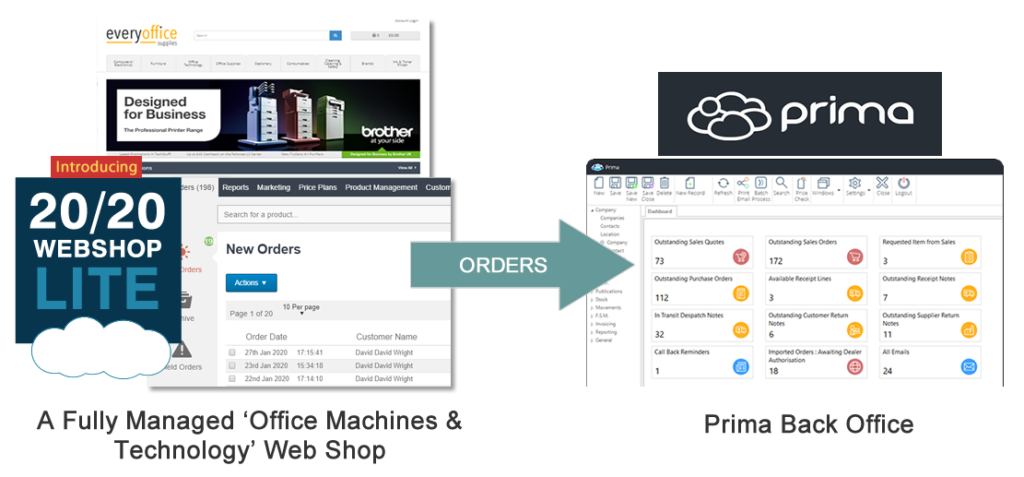 20/20 Lite is seamlessly integrated with Prima and fires orders directly into your Prima back office. Use it as a standalone Technology Webshop or as a dedicated machines 'Microsite' that links to & from your PrimaGo website.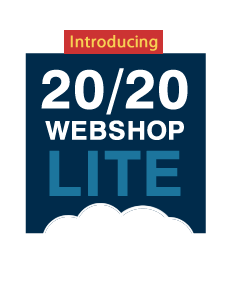 20/20 Lite together with Prima, delivers…
Your own branded Office Technology Webshop
Orders fire directly into Prima back office
100% managed by JGBM category experts = ZERO maintenance for you
JGBM 'ISP' Intelligent Street Price feed – makes you ultra-competitive in Office Machines
4,000 JGBM SKU's – on average doubling your portfolio
Unique JGBM content – data, video etc. It's not available elsewhere
Monthly manufacturer promotions – uploaded within 48hrs of launch
Countdown timers on promos to encourage purchasing
Unique product selectors for Printers, Shredders, Dictation etc.
Optional JGBM 'consumer' helpline – our product experts advise your customers of the correct product for purpose
Manufacturer banners link to promos
Stock updates every 5 minutes
Daily product and pricing updates
Strong feature-rich landing pages
Mobile and tablet ready – Cloud-based, delivering speed and scale
AUTOMATED OFFERS, PROMOTIONS & BANNER MANAGEMENT
Your technology webshop becomes the hub for the latest industry offers & promotions. Daily, weekly, monthly, hourly promotions and banners appear automatically, driven by JGBM and manufacturers too. Your sell pricing is competitive so you're 'in the market'. Banners link through to dedicated landing pages that detail the promotion and list the relevant products. Countdown timers show how long each offer has to run, and products and images have a splash graphic linking to details of the offer. And your Sales Team use your technology webshop as a sales tool so they're up to speed every day!
THE JGBM PORTFOLIO COVERS OVER 40 CORE PRODUCT CATEGORIES
Now in its 43rd year, JGBM has a long award-winning history of expertise in the Office Machines category and a sales team trained by manufacturers on all products. JGBM Categories:
Dictation Labelling Machines
Multifunction
Printers
Shredders
Binding Machines
Guillotines & Trimmers
Laminators
Calculators
Software
Headsets
Ergonomic Products
Scanners
Projectors & Screens
Whiteboards
Safety & Security
Electronic Reference
Telephones
Scales
Cash Registers
Fax Machines
Consumables
Compatible Toners
2 Way Radios
Accessories
Air Products
Cleaning Products
Computer Software
Digital Cameras
Folding Machines
Headsets
Lamps
Networking
Pencil Sharpeners
Stationery
Tablet & Smartphone
Vacuum Cleaners
Weighing Scales
and more…
What is ISP 'Intelligent Street Pricing'?
We know where your (street) sell pricing should sit, whether at category or SKU level. Without ISP, or the time or capability to control pricing on the fly, it's virtually impossible for you to be successful in the Office Machines category. JGBM 'ISP' resolves this without you needing to be involved. Pricing updates automatically overnight (you can still control margins yourself in the 2020 Lite admin area if preferred).
As the Office Technology market moves so quickly it's essential that you engage your customers with a modern online solution that offers unique content, promos, stock & pricing – live as it happens. The 2020 Lite webshop is key to attracting a sale rather than dissuading your customers from coming to you for office machines. Worse still, putting them off you for all products. Combined with your local service – 2020Lite keeps you relevant in Office Machines!

See an example webshop here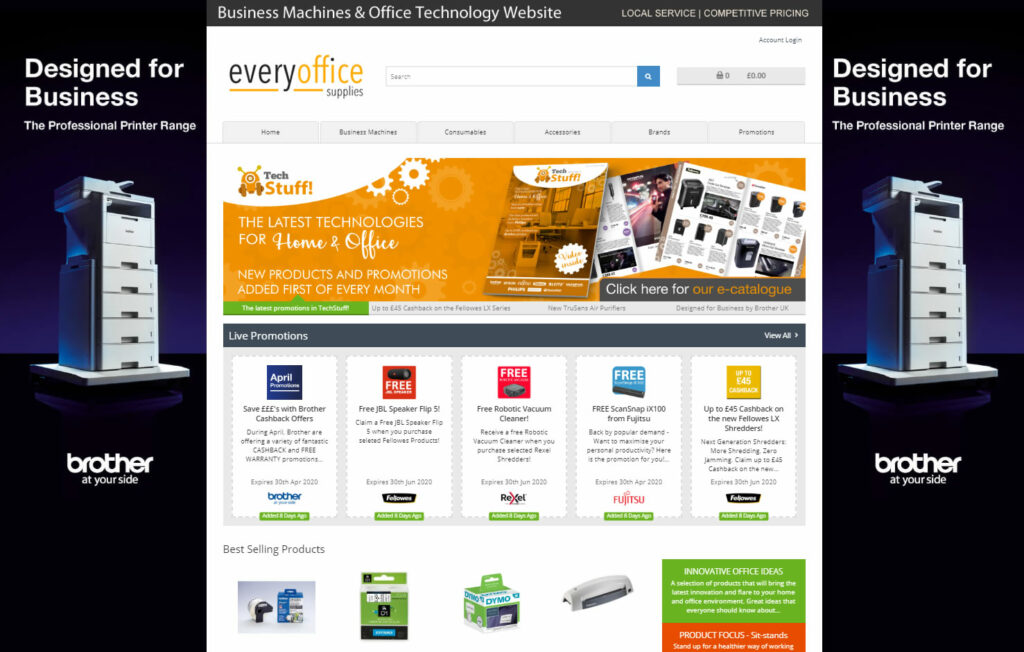 What will it cost?
So how much does it cost to get COMPETITIVE in Office Machines – with a dedicated, full eCommerce website, unique managed data, promotions & ISP pricing?

Just £60/month + £150 set-up.
JGBM Catalogue & Feed ( *without a 20/20 Lite webshop* )
If you only require the enabling of the JGBM Catalogue and cost price feed for your existing Prima system, full details here Prima Marketplace.
Ensure you have a modern online offering and kickstart your Office Machines sales with a 20/20 Lite Tech webshop.

For further details please contact Mark Smith at JGBM, 01752 330044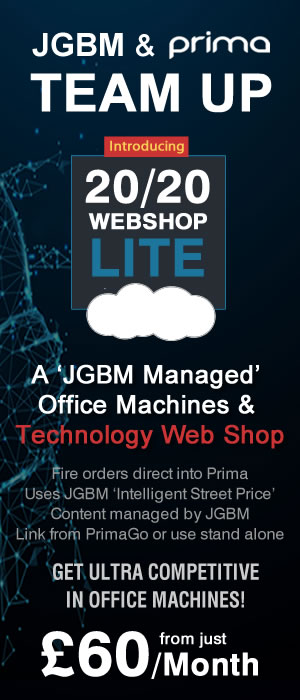 Category: JGBM News & Press Releases, Marketing Solutions