Welcome to the world of working from home. A concept that is quite new to many but quickly becoming the norm, given the current global situation.
With office workers setting up base in their living rooms, dining rooms or kitchen counters, technology has understandably become a huge factor in this working transformation. And office products are becoming a valuable commodity in terms of making remote working easier.
Our top picks for working from home.
We've delved into the world of office products and software to find some useful tools and technology which will undoubtedly make working from home that little bit easier for your customers, from Scanners to Speech Technology.
1. Fujitsu ScanSnap range
With your customers transitioning between a paper-filled desk space with piles of documents to taking their work home and keeping it organised can be tough and overwhelming. Thankfully, digitising their work by using business scanners helps bridge the gap between the office, colleagues and customers thus allowing instant digitisation and distribution of documents, lists and workloads.
Fujitsu's ScanSnap S1100i and ScanSnap iX100 are mobile scanners built for mobile working. These products feature a host of functions that enable collaboration, efficiency and security.
SCANSNAP S1100i The perfect lightweight companion
The ScanSnap S1100i is the perfect lightweight companion for front-side document scanning at home or on the road. Whether customers are scanning receipts, contracts, recipes, or plastic cards, ScanSnap takes scanning beyond the desktop and into their world.
Creates a searchable PDF file with the touch of a button
Scan to an editable Word and Excel file
Business card, ID card and receipt scanning software
Dual Scan – scan two small documents simultaneously
Cross-platform compatibility for PC and Mac
USB powered
SCANSNAP iX100 The world's fastest battery powered ScanSnap
The ScanSnap iX100 is the world's fastest battery powered ScanSnap. Whether your customer is scanning receipts, contracts, recipes, or plastic cards, the iX100 takes scanning to another level. It is a completely wireless and lightweight machine, therefore brings mobility and wireless scanning to their PC or Mac as well as iOS or Android device.
One button searchable PDF creation
Scan a colour document in 5.2 seconds
Direct Connect mode for Wi-Fi scanning anywhere
Dual Scan – scan two small documents at the same time
ScanSnap Cloud – takes paper directly to their cloud.
Introducing ScanSnap Cloud…
ScanSnap Cloud introduces a new, productive way of scanning documents directly to customers cloud. With their ScanSnap iX500 or iX100 and ScanSnap Cloud, there is no need to be connected to a desktop or mobile device. Customers can simply press "Scan". More details can be found here on the ScanSnap Cloud
---
2. Philips Speechlive: providing a secure dictation solution while working from home
Philips have experienced a significant increase in demand for their speech processing solutions due to the current situation surrounding COVID-19 and particularly as their products are innovative in terms of remote & home working.
Philips solutions cater to a mobilised workforce. Whether your customers are working in an office with a voice recorder or from home using their smartphone, solutions like Philips SpeechLive help you turn their voice into text as quickly and easily as possible. Whether they are working with transcriptionists or prefer using speech recognition, these solutions can help maintain customers working processes, even if they need to change their work location.
How it works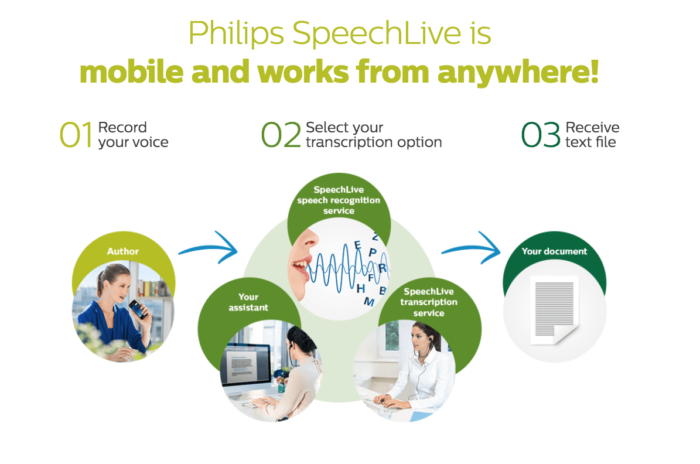 Philips SpeechLive lets customers upload, play and download dictation files through their cloud-based system. Simply by recording speech, selecting where they would like it to be sent using their subscription and the document will appear.
Your data is safe
Philips understands that security is extremely important to your customers and clients. They take this issue very seriously and have set up the highest security standards to protect their data. All dictations are encrypted, transferred and stored securely on Philips servers.
Conclusion
These Fujitsu and Philips products can really boost your customer's productivity and improve their efficiency when working from home. Having the right technology products to smooth the process of remote working can really help with stress levels too! It's worth your customer's paying a little extra for good quality brand names, not only for the product quality but the technical support that is provided with them as well.

COVID-19 has certainly brought about a rapid period of adjustment for all office workers and for those of us now located in our homes. Thankfully much of the technology available has reached a point where it is functional rather than gimmicky. We continue to adjust to the global situation and hope that a little clever technology here and there will help guide and improve our journey through this pandemic! Keep safe everyone.
Category: JGBM News & Press Releases