At JGBM we're committed to assisting you in selling to your customers – so we've created this FREE 'Six Of The Best' flyer that has a Pandemic Office Essentials focus – based on products that are useful in creating increased awareness and a safe environment in the Office.
And we'll customise it for you FREE OF CHARGE – both with your company details and your own sell price!
To receive this customisable flyer follow the instructions below and we'll do the rest!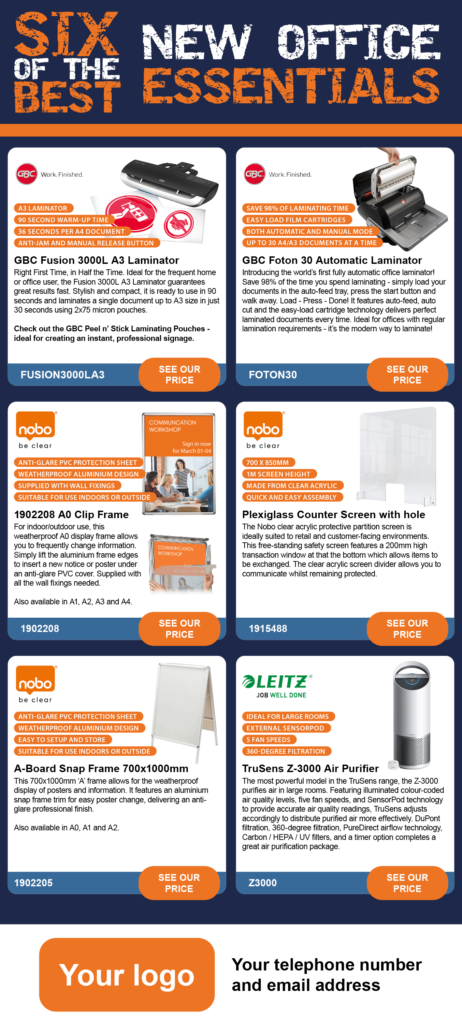 Want to send these out to your customers? Email james@jgbm.co.uk and include:
Your logo
Company details: telephone number, web URL & email
We'll email you back with the completed 'SIX of the BEST' flyer as a PDF ready for you to add your pricing and forward to your customer base!
If you're unsure of your cost pricing please login at jgbm.co.uk, check your data feed, if you receive one, or call Sales on 01752 330044.
Using MailChimp?
Why not download our Six of the Best email template straight to your MailChimp account ready to send to your customers. All you have to do is add your product page links and send.
Click here to download the MailChimp template
Category: General, JGBM Offers & Product Newsletter, Marketing Solutions